Post by Roger on Feb 24, 2019 9:09:18 GMT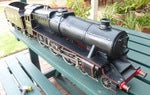 Brian
Hi Brian,
I've not seen pictures of the Lathe and Mill enough to compare them, but I suspect there's an awful lot more metal between the chuck and the tool on the lathe. Small mills usually have a pitifully small and flexible column, and this is probably the reason why they aren't that capable. The construction seems to be aimed at being able to have the maximum traverse in each axis at the expense of rigidity. That's understandable really if you want it to be as flexible as possible. If you scaled down a Bridgeport to the size of a mini mill, I imagine you'd get less than half the traverse that your machine has.
I doubt very much if the cutters will have much bearing on the capability of the mill, you won't be able to push very hard whatever you choose. Rippers take less load, but I don't think you can get them smaller than 5mm diameter and that's a bit big for a small mill to be pushing hard.
I think your best bet is to look at modifying the machine along the lines of what Doug has done. If you PM him, I'm sure he'll be happy to share his before and after experience following the modification. In the end, the amount of metal and where it's put it in the mill structure more important than almost anything else when it comes to how much material you can remove in one pass. The column is the weakest link, and that's where I'd be looking to make the biggest difference for the least amount of effort.